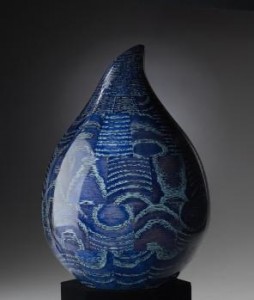 The trend today in many areas of life is to express individuality. Examples can be seen in the way we personalize our Facebook page, communicate our own interests on Pinterest, and even customize our own M&M's.
I have seen this trend continue into the memorial industry as well, talking to dozens of customers who are searching for just the right unique cremation urn to reflect the special life of their loved one. One recent dog owner was emotionally describing his beloved German Shepherd who was so important to his family. He wants a unique custom  cremation urn that looks like his pet in the coloring that is very beautiful in shape and design. This will be his unique and personal tribute to his loyal companion.
The Steve Shannon Collection Artisan Series
Another customer was looking for a stunning, art piece for his father's remains since his father was his hero and mentor. The Blue Teardrop urn from my Artisan Series was his choice because of its tranquil spirit and elegant design. The exclusive finishing technique I use resembles deep blue waves of water. He wanted the very best for his father and he saw that in the uniqueness of the Blue Teardrop urn.
Finding the Perfect Cremation Urn
I encourage you to take some time to reflect on the life of your cherished loved one and what they were passionate about. The Steve Shannon Collection has many unique and artistic urns to choose from, and we will be happy to help answer your questions. Contact us to learn more about choosing and customizing a fitting artistic cremation urn.