Iona Cross Urn
Details
Large - 7.5"D X 11"H, 210 CI
Wood: Poplar
The Iona Cross cremation urn is designed to display the Irish pride of your loved one. Poplar wood is hand turned into a classic urn shape, and then dyed a stunning emerald green. To finish the wood turned urn, a black Iona Cross is laser etched on the front.
Iona Cross Urn
1
Average rating:

Write a review
|
Read all reviews
Featured Reviews:
Iona Cross Urn

Iona Cross Urn
08/04/2020
I ordered this for my son. He was proud of his Irish heritage and had made two trips to Ireland. The last one was in 2019. His grandmother's Maiden name was Lockhart. I wanted something that we felt was unique to his memory.
When I found this I immediately sent pictures to his 4 children and we all agreed.

You May Also Like: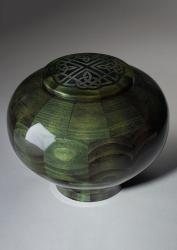 Celtic Knot
$640.00