Memorialize Your Loved One with Wooden Urns from the Steve Shannon Collection

The loss of a loved one leaves a hole in our lives. Though they may be gone, their memory will live on. One way to keep that memory alive is by choosing a decorative wooden urn for your loved one.
If you are searching for a fitting vessel to hold the final remains of a beloved family member or cherished pet, consider using a handmade wooden urn from the Steve Shannon Collection. These skillfully crafted pieces come in a wide range of sizes and styles and serve perfectly as a beautiful final resting place for the companion that meant so much to you.
How Are the Wooden Urns Made?
Every one of the urns in the Steve Shannon Collection is hand assembled and hand turned. This labor intensive and precise process ensures a flawless finish, and allows solid pieces of hardwood to be transformed into flowing, organic designs. Steve Shannon is a master craftsman, and he approaches every project with an unwavering commitment to perfection. These exquisite wooden urns provide a moving tribute to your departed loved one.
Why Choose a Wooden Urn?
There are many reasons that wooden urns make ideal final resting places. The natural grain and texture of wood is aesthetically pleasing and provides a natural look and feel you can't get with other material urns. Wood is always around us in nature and provided people a comfortable, warm feeling. Every piece of wood Steve Shannon uses is naturally different with a unique color, texture, and grain making every urn a truly custom and environmentally-friendly piece.
In addition to looking beautiful on display, wooden urns can also safely be stored outside in a cemetery placed inside an urn vault, and they can be designed to be biodegradable if you so choose. For look and versatility, you can't go wrong with wood turned urns.
Choosing the Right-Size Wooden Urn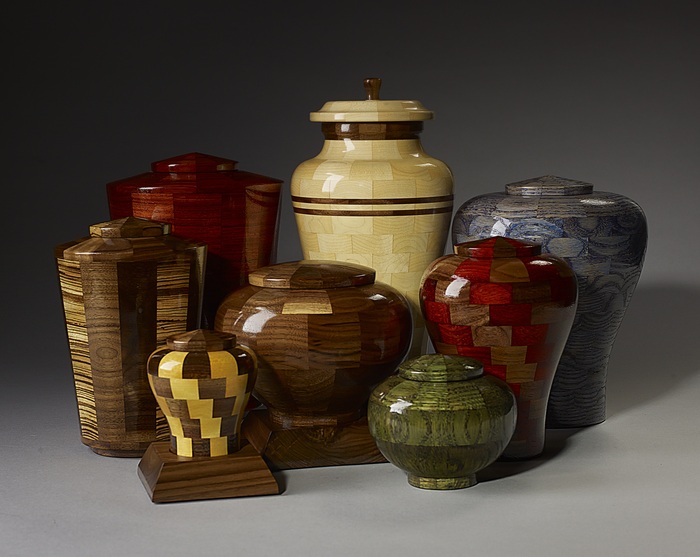 The Steve Shannon Collection contains urns in a wide range of sizes. There are smaller urns that are best suited for children and beloved pet dogs and cats. We carry larger urns for adults and keepsake urns that allow remains to be shared among family members. Our extra large size urn can accommodate a prized horse or be used to keep the remains of an entire family together. We would be happy to help you determine exactly which sized wooden urn is equipped to meet your needs.
Consider a Custom Wooden Urn
If you browse though the Steve Shannon Collection and don't find a wooden urn that perfectly reflects the memory of your loved one, consider having a custom urn built. We would be happy to work with any customer to help design and build a one-of-a-kind urn or modify an existing urn design.
Let Steve Shannon Know Your Needs
Contact the Steve Shannon Collection and let us know what you are looking for. At this time of loss, it is a privilege to serve your needs by helping you find the urn that will perfectly honor the memory of your loved one.