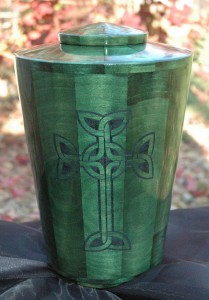 There are not many groups as loyal and true as the Irish American people. These are a people who are proud of their culture, traditions, faith, homeland, and families. Being Irish is a huge part of their identity. That is why many Irish families are choosing an Irish-themed cremation urn as their loved one's final resting place. Whether the urn is kept at home or in a cemetery, honoring Irish heritage seems to bring much comfort during a difficult time. Choosing a fitting urn style that reflects the family member's life is a perfect memorial celebrating a special life.
Choosing a Celtic Design
Some of my Irish customers choose one of our 3 stock designs in the Irish Line – the Iona Cross, the Celtic Knot, or the Gold Claddagh. But other families want to express their own creativity, so I have worked with them on a custom design, taking one of my other urn styles and adding an Irish accent to it, like a green stripe, or a laser-etched Gaelic symbol. If you have a personal photo of your family's cherished property in Ireland, you can choose to have that image hand-painted on any of our urns as well. We are happy to work with your own ideas.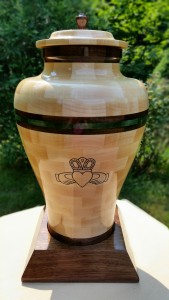 Personal Customer Service
Each cremation urn featured in the Steve Shannon Collection is a unique piece specially handcrafted; no two are exactly alike. Please take a look at our urns and contact us to learn more about our Celtic pieces. Feel free to contact us at 1-844-ART-URNS to help you with these choices.