Sanding Wooden Rings
Many people see my finished cremation memorials and have many questions on how and why I like making wooden urns. The urns are made up of many precisely cut pieces of wood which are glued together in rings, sanded, glued again with the rings stacked, then turned on a lathe. In this video below, I demonstrate sanding the rings in my workshop.
Choosing a Personalized Resting Place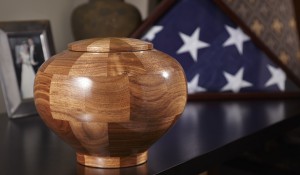 I have created a beautiful line of turned wooden urns which may be personalized to honor the memory of your loved one. Each cremation urn featured in the Steve Shannon Collection is a unique piece specially handcrafted by me; no two are exactly alike.
Please take a look at our urns and contact us to learn more about our artisan pieces. I would be honored to learn more about what you want your final resting place to be. Feel free to contact me at 1-844-ART-URNS to help you with these choices.