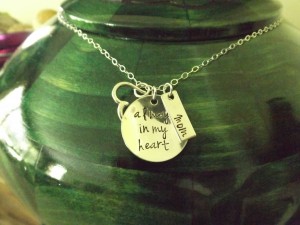 Our team at Steve Shannon Collection is excited to announce that we have teamed up with Kelly Bourgeois of The Charmed Wife Etsy Shop, pairing her memorial jewelry with our custom urns. Kelly personalizes beautiful hand-stamped jewelry for many occasions, including a sympathy line. Add your loved one's name and a special message in remembrance of a beloved family member or precious pet.
The Steve Shannon Collection has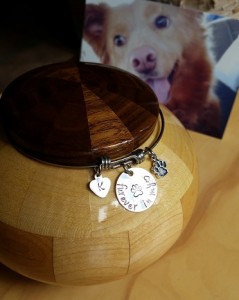 updated the way urns are displayed in the home. Our wooden vessels are designed with a unique flair to look like an art piece, not an old-fashioned urn.  Adding personalized memorial jewelry to adorn our urns is the newest trend. Not only is the necklace or bracelet a decoration for our urns, it can also be worn at times when that special person or pet is being missed and you want to keep them close to you.
Find the custom jewelry on Kelly's Etsy Shop:
https://www.etsy.com/shop/thecharmedwife
Custom Urns
We also offer laser etched cap and engraved pedestals to personalize our urns. Or our classically trained portrait artist, Chris Cismesia, can add any custom image, poem, or message for a truly one-of-a-kind final resting place.
Please take a look at our urns and contact us to learn more about our artisan pieces. I would be honored to learn more about what you want your final resting place to be. Feel free to contact me at 1-844-ART-URNS to help you with these choices.