A butterfly release is a classic symbol of new life. You can contact your local funeral home or pet cemetery to see if they hold an annual event like this one. Or include the butterfly release in the private funeral and memorials service you are planning for remembering your loved one.
Butterfly Release Honors Loved One!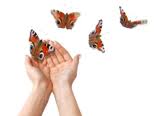 Posted: Jun 05, 2013 10:19 PM CDT Updated: Jun 08, 2013 10:20 PM CDT
NEWTON — More than 300 guests looked to the sky above the Lakeland Bank Pavilion at Sussex County Community College on Sunday and fondly remembered loved ones during the 13th annual Karen Ann Quinlan Hospice Butterfly Release Celebration.
Begun in 2001, the event is held each year to honor, remember and celebrate lost loved ones, according to Cecelia Clayton, executive director of Karen Ann Quinlan Hospice. During this year's ceremony, the names of those being celebrated were read aloud to live music from the Children's Chorus of Sussex County before dozens of Monarch butterflies were released on the college green. In the year leading up to the event, those who wished to participate purchased a butterfly for $20 in the name of a loved one and received a commemorative butterfly lapel pin and acknowledgement card.
The event was sponsored by several local businesses: Smith-McCracken and Wood Funeral Home, Lakeland Bank, Eastern Propane, Milton Terry Associates, Bristol Glen, Stroyan Funeral Home and Belle Reve Senior Living Center. The Karen Ann Quinlan Memorial Foundation is dedicated to providing hospice care for the terminally ill and bereavement for those who have lost loved ones.
To participate in next year's Butterfly Release Celebration, to view upcoming Karen Ann Quinlan Hospice events or to inquire about any of its services, visit http://www.karenannquinlanhospice.org or call 973-383-0115 or 800-882-1117.
To discuss a custom memorial urn for your loved one, feel free to contact Steve Shannon Collection. http://www.steveshannoncollection.com/contact.html