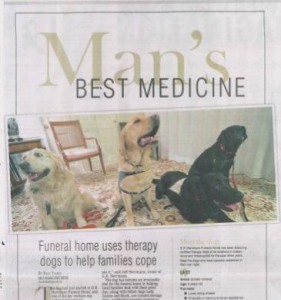 Therapy dogs have been trained to serve many types of people in need, from the sick, the handicapped, the old and the young. These dogs bring a sense of peace and joy to those looking for comfort, as well as friendship and assistance to the lonely. G.H. Herrmann Funeral Home in Indiana utilizes four therapy dogs to comfort grieving families. Read the Miami Herald article for the full story.
Therapy Dogs, Inc. is a great resource to get more information. http://www.therapydogs.com/
Contact us for questions on a custom memorial urn for your beloved family member or precious pet http://www.steveshannoncollection.com/contact.html.