Honoring Your Pet in a Special Way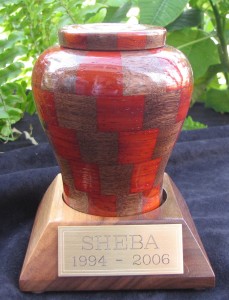 I find fulfillment in my work providing families with custom pet urns to bring a bit of comfort to broken hearts missing a cherished pet.
We provide a personalized nameplate and pedestal so you can display an urn with your pet's name, date, and a beautiful quote to honor his memory. You can also laser etch the cap of some of our urns with the same personalization.
Some families purchase a larger urn so they can include the collar or favorite toy with the pet's ashes. Or you can hang the collar and tag around the top cap in memory.
Our Flower Petal Line of color-dyed urns is special when children are helping to choose the urn for their family pet. Maybe your pet always wore pink or purple. You can select a pink or purple urn to commemorate your pet's favorite color.
Contact us with questions on custom pet urns for your beloved family member or precious pet.