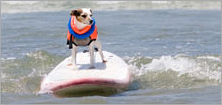 Do you have trouble finding pet friendly places now that It's finally Spring? For those of us who experienced the long, Chicago winter, warm weather can't come soon enough. There's only one thing better than enjoying the great outdoors…enjoying the great outdoors with our pets. Let's face it, our pets are like family members. We hate to keep them at home when we leave on vacation or even just to enjoy the great weather, food, and attractions nearby. If we were able to bring our pets along to experience the beauty of life in a hassle-free way, many of us would jump at the opportunity.
Websites such as Bring Fido make it easy to do just that. Next time you need help deciding on a dog-friendly restaurant or hotel locally or on vacation, Bring Fido's city guide is a great place to start. Bring Fido also provides information on dog friendly airlines, attractions, events, and even dog walking services in the area of your choice. Read more about their services here:
http://www.bringfido.com/destination/
Contact us for questions on a custom memorial urn for your beloved family member or precious pet, http://www.steveshannoncollection.com/contact.html.