In the past six years of designing hand-turned wooden urns and talking to many families, I have learned the trend these days for a proper memorial to a departed loved one is to thoughtfully personalize the event to reflect the unique life of the deceased. Many details go into the memorial, from choosing the service location to customizing the final resting place. The second blog in our Celebration of Life series is Planning a Celebration of Life Food Menu, giving examples and resources to help you honor your beloved family member with an unforgettable celebration of life.
Celebration of Life Menu Ideas
The "breaking of bread" has been a custom in many cultures, for many years, for many different important events in life. Food is usually a part of holidays gatherings, birthday parties, and life milestone events. It goes hand-in-hand with spending quality time together, sharing stories, building closer relationships. So let's not ignore the importance of a well-planned out menu for your loved one's unique Life Celebration.
Once you establish the time of day and the location your party will take place, then you can first determine which meal you will be serving; breakfast, brunch, lunch, dinner, or perhaps just appetizers. You can take it one step further and follow your theme if it applies. If we follow the Garden theme, serve a variety of healthy salads filled with fresh vegetables and fruits. Search for some delicious funeral food ideas on Pinterest or a food website like the Food Network.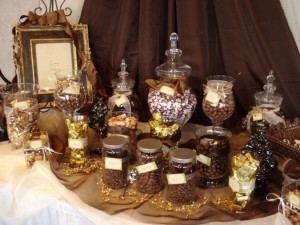 You can also consider the favorite foods of the deceased and serve those dishes as a special tribute. If everyone raved about grandma's pot pie and apple turnovers, that would make a perfect party menu. If dad loved a great glass of wine, serve a wide selection from his favorite label. If mom was a chocoholic, be sure to have a chocolate dessert/candy table that she would have loved. If you have a Mexican family heritage, have a fajita/taco bar.
Many of your guests may enjoy showing their love through their gift of cooking or baking. Turning over the planning and labor of this part of the celebration may be a huge relief and help for your family. Celebrate an amazing life by enjoying good food and fellowship!
Choosing a Personalized Resting Place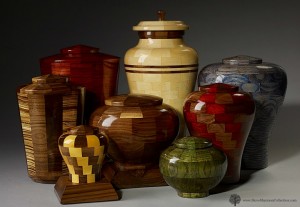 I have created a beautiful line of turned wooden urns which may be personalized to honor the memory of your loved one. Each cremation urn featured in the Steve Shannon Collection is a unique piece specially handcrafted by me; no two are exactly alike.
Please take a look at our urns and contact us to learn more about our artisan pieces. I would be honored to learn more about what you want your final resting place to be. Feel free to contact me at 1-844-ART-URNS to help you with these choices.