What To Do If Your Dog Gets Skunked – Skunk Bath For Dogs Recipe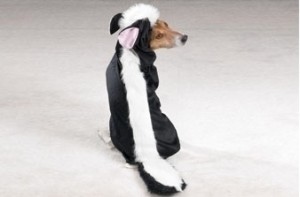 Luckily, in the six years we have had our dog, she has never been skunked. Her mama down the block has been skunked many times. I can only imagine what a nightmare that would be to get your dog smelling clean again! 
Our guest blogging vet, Dr.Tricia Stimac, shares a recipe for a skunk bath for dogs.
If your dog is skunked, mix together:
1 quart hydrogen peroxide
¼ cup baking soda
1 tablespoon liquid soap (ex Dawn)
Apply to dry coat (avoid eyes), rub in, add water and work into a later, then rinse.  Repeat if necessary.  Flush eyes with a commercially available eye flush (sterile eye wash…never use Visine or similar product) if you dog was sprayed in the face.
Contact us with questions on custom urns for your beloved family member or precious pet.