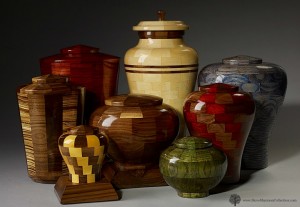 As an artisan, I've always loved creating things with wood. In talking with some of my urn customers, many chose a wooden urn as a memorial for their loved one for the same reasons as I love wood.
Wood is natural, beautiful, and warm. Its rich tones are visually appealing. Wood is everywhere around us all the time, in nature, in our furniture, in musical instruments, all around our homes, so it gives a feeling of comfort. 
Each species of wood has different color, luster, texture, and grain, offering a uniqueness in every piece. No one gets tired of it. Wood is environmentally friendly. Wood smells good. When sanded, it feels good to touch. When wood interacts with light, the beauty of nature is revealed. People love wood!
Why I Choose to Create Wooden Urns
I enjoy taking a seemingly plain old piece of wood and making it into a work of art. Making a wooden urn is especially fulfilling since the final resting place is of great importance. Wood emits a feeling of peacefulness and harmony that makes it a perfect fit for a cremation urn. When you choose a wooden urn, you are also supporting a local artisan.
We have a variety of designs to choose from in the Steve Shannon Collection:                   
Endless Love Series – two different woods are blended together for a designer look

Eternal Promise Series – simple styles with rich wood tones

Flower Petal Series – color-dyed wood representing the joy in nature

Irish Engraved Series – color-dyed green with a Gaelic symbol celebrating heritage

Artisan Series – hand-crafted, hand-painted art to reflect a beautiful life
Contact Steve Shannon to Learn More About Wooden Urns
If you have any questions about why choose a wooden urn or selecting a wooden urn for your beloved family member or precious pet, feel free to contact us.