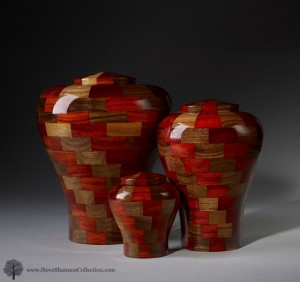 It's hard to think about your own end-of-life wishes, but there are many benefits of pre-planning cremation. My first customer was actually an old next-door neighbor of my wife. She wanted to be cremated when she died and wanted to pick out her own cremation urn.
She chose the Tranqulity wooden urn because she thought it was beautiful and would blend in nicely with her furnishings as she was going to display it decoratively in her home first.
Pre-Planning Cremation
Save your family from the emotional stress of making funeral decisions during a difficult time of mourning. Pre-planning allows for the simplicity of a single call to get your plans implemented.
Eliminate the burden of the cost of your services to your family by purchasing the products and services ahead of time.
Making your own choices regarding urn selection, church services, funeral arrangements, etc. assures that your end-of-life wishes will be honored.
The Steve Shannon Collection contains several diverse lines of handcrafted, wooden urns that appeal to a variety of tastes. If you want help in pre-selecting the perfect urn, feel free to contact us at the Steve Shannon Collection.