Pets become a member of the family. In many cases, they give us unconditional love and loyalty that many people in our lives don't offer. The passing on of a beloved pet brings grief and leaves many people wanting to honor their departed pet in some way. One way to do this is to choose to have a pet cremated and keep the ashes home on display in remembrance of all the love that pet contributed to the family. Customizing your pet urn is one way to make this memorial special.
Personalizing a Nameplate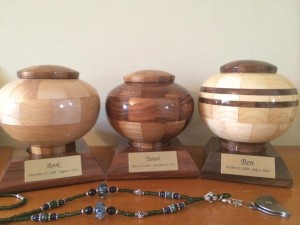 There are many things I can do to a custom urn to specially honor a pet. For example, one customer emailed me with the sad news that her third dog died, and she wanted to memorialize him the way she did her two previous pets. I provided her with the same style Steve Shannon Collection keepsake urn as with the other two, but I used a new type of wood.
I personalized the pedestal nameplate with her dog's name and dates. She keeps them dearly on display together in her home and it brings her so much comfort.
Choosing a Beautiful Keepsake Urn for Your Pet
If you're looking for an urn that will honor the memory of your precious pet, consider the Steve Shannon Collection. The Collection is made up of beautiful and unique hand-turned urns handcrafted with care. Contact the Steve Shannon Collection with questions on customizing your pet urn.