Keepsake cremation urns are miniature size urns that hold a small amount of ashes. A keepsake may be used as a memorial urn for a baby. Some families choose a large urn to hold most of parent's ashes, then use a few keepsakes to share a bit of the ashes with the children. A keepsake urn may also be used for a small pet. These are a few of our popular urn styles that come in keepsake sizes.
Popular Keepsake Urn Styles
The Wisdom urn design in the Steve Shannon Collection is made of black walnut wood. It's apple-shape and rich color make it one of our most popular urns. You can see the size of the keepsake urn in relation to the small and large urn in the photo below.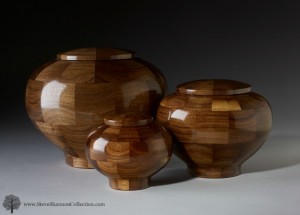 The blue Lily cremation urn design from our Flower Petal Line is another style with a keepsake size that people seem to really love. This urn is made of oak wood that is then color-dyed blue.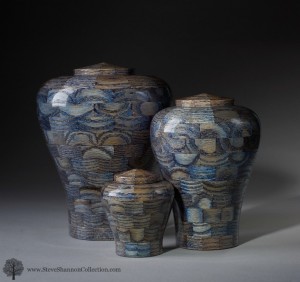 Choosing a Beautiful Urn
If you're looking for an urn that will honor the memory of a loved one, consider the Steve Shannon Collection. The Collection is made up of beautiful and unique hand-turned urns created using the finest natural woods. Contact the Steve Shannon Collection with questions on customizing a handcrafted wooden urn for your beloved family member or precious pet.