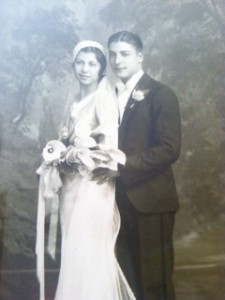 Preserving life stories of the elderly in your own family is a beautiful way to keep the family legacy alive. It also gives your loved one a time to share their own experiences and wisdom and makes them feel important. 
A cousin in the family video recorded great-grandma telling stories of her youth in Chicago around 1920. Hearing her tell the stories of the family's poverty, simplicity, togetherness, overcoming adversity, and traditions really increases the respect for our ancestors' sacrifices. It made us understand her a bit more and also ourselves. Sharing these stories in the family is the glue that holds it together, what bonds us as a family. It gives the family relationships depth and intimacy. 
We were able to play this video at great-grandma's wake in honor of her life. What a great addition to her memorial. Many in the family didn't even know it existed.
Here are a few articles that may help you get started with preserving life stories in your own family:
http://www.caregiversforhome.com/senior-storytelling-tips-tap-into-the-healing-power-of-reminiscing/
http://www.volunteerguide.org/hours/service-projects/life-stories
http://www.preservinglifestories.com/
Contact us with questions on a custom memorial urn for your beloved family member or precious pet at http://www.steveshannoncollection.com/contact.html.