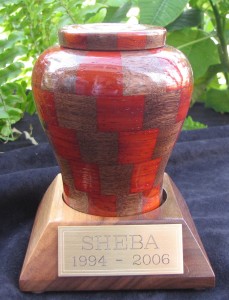 When a pet dies, the family not only goes through a very tough emotional time, but also may have many questions.
Our guinea pig, Gizmo, died unexpectedly last year. Of course, the whole family was very saddened, especially our youngest daughter. We briefly talked about our options and decided to use one of our urns to buy her in our backyard just outside the window where her cage was kept. We all went outside and watched while I dug the hole. We said a few kind words and buried her. We decided to plant a nice flower in that spot to remember her every year.
When it comes to a family dog or cat, people may want more of a substantial memorial service. There are many options for pet loss today, like cremation and keeping the urn in your home, burying your pet in a pet cemetery, and even having a funeral for your pet. We offer a personalized brass plate and wooden pedestal to display your pet urn.  I would like to share a few articles that answer many questions you may have when a pet dies.
http://www.iccfa.com/node/2562/grief
http://aplb.org/services/children.html
http://www.webmd.com/children/features/what-say-when-pet-dies
Contact us with questions on a custom memorial urn for your beloved family member or precious pet at http://www.steveshannoncollection.com/contact.html.