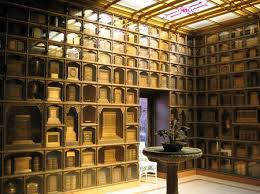 While casket burial has traditionally been the most common, more people are choosing cremation for themselves and their loved ones. By the year 2017, it is expected 50% of people in the U.S. will be cremated. If your loved one selects cremation, what do you do with the cremation ashes?
Cremation Ideas
Basically, you have 3 common choices:
Bury the ashes in a cemetery with an urn in the ground, outdoor columbarium, or indoor glass front niche.
Display them at home in an urn.
Scatter the ashes in a place important to your loved one. Be sure to check state laws for permission before scattering ashes.
TIME produced a short video called Ashes to Ashes that discusses many choices regarding cremation ideas and what to do with cremation ashes. I think it is beneficial to watch when considering your final wishes or that of your loved one.
Choosing an Urn for Display or Burial
You will need to check with the cemetery for details on size of urn, need for a burial vault, and material of urn. If you choose to keep the urn at home, consider where you will be displaying the decorative cremation urn: on a mantel, nightstand, or shelf. What style, color, and size of urn will best fit that space?
If you're looking for an urn that will honor the memory of a loved one, consider the Steve Shannon Collection. The Collection is made up of beautiful and unique hand-turned urns created using the finest natural woods. Contact the Steve Shannon Collection with questions on customizing a handcrafted wooden urn for your beloved family member or precious pet.