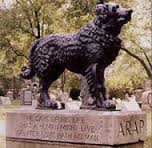 There is more and more interest in pet owners wanting to be buried with their beloved dog or cat. So much interest that the state of New York formally adopted regulations in July 2014 allowing pet cemeteries to accept the cremated remains of people. Read the entire story from the New York Daily News.
Some funeral directors allow the family to place personal objects in a family member's casket before burial. Requests for a pet urn to be buried with its owner are growing. Pets may give us unconditional love and become a member of the family. It is not surprising that more animal lovers last wishes are to share their final resting place with their loyal pet companion.
Sharing a Cremation Urn with your Pet
I have created a beautiful line of natural wooden urns. Each cremation urn featured in the Steve Shannon Collection is a unique piece specially handcrafted by me; as unique as your precious pet. One idea to stay close to your pet forever is to choose an urn large enough to house both the ashes of you and your pet, or you may choose to have matching urns for you and your pet.
Please take a look at our wooden urns and contact us to learn more about our artisan pieces. I would be honored to learn more about what you want your final resting place to be and how to include your pet.